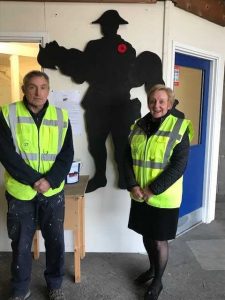 Longridge businesses are being encouraged to host one of the 93 silhouette soldiers being created, each one honouring a Longridge soldier that died during the First World War. As part of the Longridge Cluster Schools Armistice Project, this particular project is the initiative of Simon Wallis, head teacher at Barnacre Road Primary School.
Made from 9mm WBP plywood, the ghost soldiers are being placed in and around the town. Local timber merchants, Longridge Timber is delighted to be able to offer their cutting service which means that the silhouettes can be cut to order before being painted and mounted ready to go to their new home.
Sue Cornthwaite, director of Longridge Timber said "As a long-standing member of the business community and locals ourselves, we are proud to be able to support our town and the Barnacre Road school children with their amazing project. Our cutting machine operator Pete Lambert is doing such a great job".
As the school's Remembrance performance at Preston Guild Hall, written and directed by Simon himself draws closer, he is appreciative of how the community has got behind the project and added "The support from Longridge Timber from the start of this project back in September 2017 has been phenomenal. Both John and Sue Cornthwaite have been incredibly generous with both material and manpower support. Pete Lambert has taken such care in the cutting out of the figures and nothing has been too much trouble. Longridge Timber have epitomised the support from our business community".
For anyone interested in buying their own ghost soldier, Pete from Longridge Timber can cut out the figures on demand (unpainted and without stand) for £38 each with all profits going to Royal British Legion.
Picture above features Pete Lambert and Sue Cornthwaite.