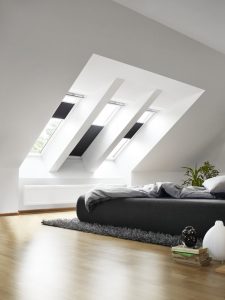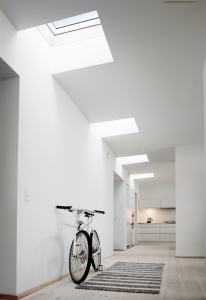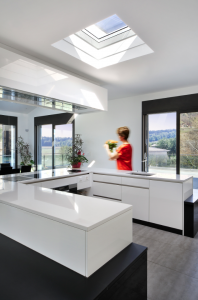 Whether you need roof windows for a flat or sloping roof, extension windows, skylights or roof domes, here at Longridge Timber we supply the complete range of VELUX windows available for free, speedy delivery to your site, or to your home.
We have chosen to stock VELUX due to their market-leading, innovative product range that has been tried and tested and tailored to fit the needs of almost any project, from new developments and bespoke builds, to refurbishments and conservation work. They also offer long-term peace of mind with a VELUX 10 year guarantee.
Our experts here at Longridge Timber can help to advise you on the right VELUX windows for your project, allowing you to maximise space, light and air whilst ensuring an efficient installation and the ideal end result.
Light and airy loft conversions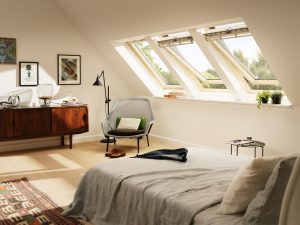 Becoming ever popular, loft conversions are easily attainable in many homes, offering extra space for bedrooms, bathrooms, office or living areas and adding great value to a property. VELUX offer many solid options for lofts, helping to make the most of the space. One popular option is the VELUX top hung window, offering panoramic open views of the surroundings, they're a great way to maximise light. With the added option of noise reducing glazing, they're a practical option too.
Sunny extensions

Whether a pitched or a flat roof extension, VELUX roof windows offer solutions that truly let the light in. Pitched roof windows can bring in twice as much daylight* as vertical windows of the same size and make an ideal pairing with vertical glass doors to truly make any extension brighter. For flat roofs, their curved rooflights allow light to flood in. Plus there's remote control windows in the new VELUX Integra range. Ideal for out of reach areas, they provide fresh air at the touch of a button!
Explore the range
Speak to one of our VELUX experts at Longridge Timber today. Contact us here or call us on 01772 785991 and ask for George or Howard. We'd be happy to help you explore the range and select the right windows, whatever your project. Or simply get in touch to discuss the various size and finish options that are available for a speedy free delivery across the North West.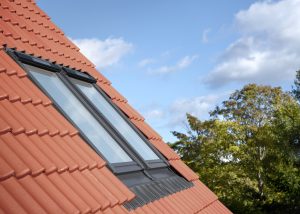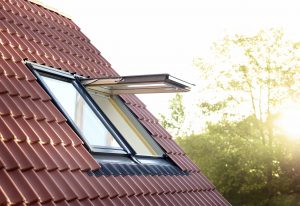 *Source: Velux