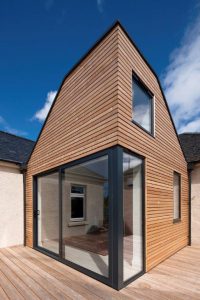 Longridge Timber stock a wide range of the highest quality, durable timber for decking, flooring and cladding. One aesthetically pleasing, beautiful looking timber to consider for your projects is Siberian Larch; this timber is so durable it is referred to as 'the tree of eternity'. Some homes in Russia have been estimated to have been in existence for over 800 years!
Due to the proximity, Europeans have been able to take advantage of this resilient timber and Larch Cladding is proving to be a popular choice with architects in the UK to specify because of its aesthetic appeal. With its tight grain features making it a very distinguished looking wood, it is currently at the height of cladding fashion.
It is also attractive to the construction industry due to its low-cost installation, high manufacturing standards and impressive dimensional stability. Siberian Larch is going to last a long time given its resistance to lots of wood diseases and rot. And yes, it is straight!
Sustainable sourcing
At Longridge Timber we are passionate about sustainability and the provenance of all our timber. Our Larch Cladding is chosen from the very best sawmills and originally sourced from Siberia, a sustainable resource where for every tree that is cut, the equivalent of 5 more have already grown in its place. The sawmills are also deeply committed to environmental responsibility, including compressing the leftover sawdust into fuel pellets for the use of energy.
The hardest softwood around
The structural properties of Siberian Larch really are better than any softwood out there, it is slow grown and for a softwood species is extremely hard-wearing making it perfect for projects such as schools or retail outlets where high footfall occurs.
Durability: Siberian Larch is Class 3 durability rated product.
Dimensional Stability: Good. Siberian larch has a medium movement rating.
Workability: Siberian larch can be machined for a quality finish; due to its density we recommend maintaining a sharp blade and remember that we offer a cutting service to your specific requirements.
Fixing: We advise screwing, not nailing when fixing Siberian larch to avoid splitting.
Treatment: One of the many attractions of Siberian larch is that it does not need to be sealed. However sealing adds an extra layer of protection and means it will last even longer. Like all natural wood it will oxidise and weather to a silver grey colour if left untreated. It should always be treated with retardant products if this is requirement of specification.
Certification: Siberian Larch is FSC certified.